AMGA Single Pitch Instructor (SPI) Course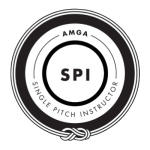 AMGA Single Pitch Instructor (SPI) Course
The Single Pitch Instructor (SPI) Program teaches climbing instructors to proficiently facilitate and instruct the sport of rock climbing in a single pitch setting. The SPI is the only internationally recognized single pitch climbing instructor certification program in the United States. It was developed to fit in the AMGA Rock program.
Why take your SPI with Granite Arches?
We take a positive approach to the SPI course.  The course is all about learning and positivity.  Our course is not about highlighting our achievements or prowess.  It is about helping you develop your skills.
Granite Arches offers a custom, highly structured SPI course.  We have spent a large amount of time organizing the course into a very logical progression.  Further, before we demonstrate each new technique or method, we clearly outline the progression and application of each technique so that the student understands the reason and application of what they are learning.  This can greatly increase the efficiency of learning.
We use custom teaching materials.  Granite Arches SPI course uses  custom educational materials including bolt blocks, laminated handouts and custom demonstrations.
We get great feedback on our course from the AMGA: Our entire course was recently audited by a senior AMGA SPI course trainer.   His comments back to the AMGA included that we "never missed an opportunity to double-check or add little tweaks to fine-tune an already awesome product."  Other comments included that we "constantly encouraged questions from the students, and addressed technical issues with a keen awareness of current discussions and debates."  Finally, he wrote that Granite Arches' "incredibly comprehensive preparation set a high bar . . . [Granite Arches] provided a great course -- not just a textbook SPI course, but a truly inspired program from start to finish."
 Benefits:
It significantly improves the instructor's skill sets and integrates into the next level of training, the AMGA Rock Instructor Course.
The program is for current, active rock climbers who have a real desire to teach rock climbing to novices in a single pitch setting.
The SPI Course is a 27-hour training course that normally runs as three consecutive nine-hour days or day classes with evening sessions.
The SPI Assessment is a minimum of 16 hours run over a two-day period.
Certification lasts for three years as long as the candidate keeps current AMGA Membership and First Aid Certification.
After three years current SPI's can re-take the SPI Assessment to regain the SPI certification.
Taking any higher level AMGA Course also re-certifies the SPI certification for another three years.
Prerequisites:
You are a Professional Member of the AMGA.
You have a genuine interest in rock climbing and instructing novices on single pitch crags.
You are at least 18 years old at the time of the course.
You have at least 12 months prior climbing experience.
You are an active climber with traditional lead climbing experience (leader placing pro).
You have led a minimum of 15 traditional rock climbing routes (any grade).
You are capable of comfortably climbing 5.8 while on a top rope.The above prerequisites are absolute minimums. Without having at least this amount experience you are unlikely to make best use of the training.
Upcoming Course Dates:
March 23-25 2018 at Pilot Mountain NC.
April 6-8 2018 at Pilot Mountain NC.
May 11-13 2018 at Pilot Mountain NC.
Sign up below:

Private Review/Exam Preparation for AMGA Single Pitch Instructor (SPI) Course and Exam
Granite Arches is happy to offer private SPI course and SPI exam review days.  The goal of these days of training will be to assess your knowledge and application in the major content areas of the course and exam.  This can be extremely helpful as a refresher before the exam, as a primer before the course, or as review to brush up on  SPI techniques.