Pilot Mountain Rock Climbing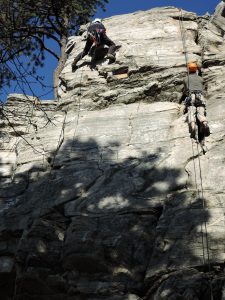 Pilot Mountain is an intimate crag in the Piedmont of NC. The smallest of the crags making up the ancient Sauratown range of mountains, Pilot is easily accessible by car from a beautiful elevated overlook from which you can see Winston-Salem, Greensboro and High Point from the rocks. Off in the distance, Grandfather Mountain is visible as well.  The area is one of the smaller North Carolina climbing destinations, but what it lacks in size if makes up for in view, convenience and top access.  not large but has a nice assortment of climbs. Looking Glass is a classic North Carolina exfoliating granite dome.  It is one of the best rock climbing areas in the east, and sports steep friction, crack, aid, and face climbing routes.  It is relatively amenable to the novice and intermediate climber.  The south face is home to a large number of moderate routes. The sun wall is southwestern to western in aspect and holds some very difficult free climbs.  The nose area is famous for the intermediate routes The Nose and Sundial Crack, 400 foot free climbs of four pitches or more.  The north wall is home to difficult free climbing as well as grade V aid lines (multi-day routes).
Climbing Season:
Climbing can be comfortable at Pilot, and it really excels Fall through Winter into Spring.   Summer is very hot here.
Location:
Pilot Mountain is near Pinnacle North Carolina, but the closest town with significant services is Winston Salem, which has hotels, restaurants, a brewery, a Trader Joe's!
Routes:
Crackin Up, 5.7
Mild Mannered Secretary (5.7)
Pole Dancing (5.7)
Chicken Bone (5.8)
Black Rain (5.9)
Mamma Bear (5.10)
Pappa Bear (5.10)
Devil in the  Whitehouse (5.10+)
And many more . . .
What We Offer:
Granite Arches offers professional rock climbing guiding and instruction year-round at Pilot Mountaint.  Granite Arches offers private guided instruction only, so you or your group will not be with any other climbers.    Our focus is to help you efficiently reach your climbing goals, while developing superior risk management awareness and technical skill proficiency.  Our 'courses' are not set in stone, because our instruction is private and custom tailored to each client.  Instead, instructional goals of varying levels are integrated into "focus areas" to be seamlessly woven into your climbing day at the crags.  The focus areas covered by you and your guide are determined by your technical skill and practical knowledge and follow a natural progression.
Our Credentials:
Our climbing guides are  professionals who have climbed and guided rock, snow and ice allover the Southeastern US., but also in South America, Greenland, Europe, and Canada. They bring that experience to your rock climbing adventure.